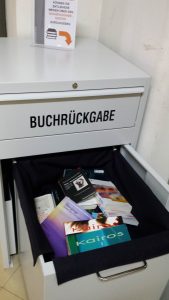 Da die FHWS-Bibliothek jetzt schon einige Wochen wieder aufgesucht werden kann und seit 15.3. auch wieder die Lesesäle zugänglich sind, werden alle Sonderkonditionen, die während der Corona-Einschränkungen eingeräumt wurden, nach und nach wieder zurückgenommen.
Die regulären Leihfristen treten wieder in Kraft und bei verspäteter Rückgabe finden auch die Mahnläufe statt, d.h. bei Überschreitung der Leihfrist werden wieder Mahnbriefe mit Säumnisgebühren verschickt. Bitte werfen Sie einen Blick in Ihr Bibliothekskonto um unangenehme Überraschungen zu vermeiden.
Since the FHWS library can now be visited again for several weeks and the reading rooms will also be accessible again from 15.3.2021, all special conditions that were granted during the Corona restrictions will be gradually withdrawn.
Regular loan periods will resume and late returns will also be subject to reminder runs, i.e., reminder letters with late fees will again be sent if the loan period is exceeded. Please take a look at your library account to avoid unpleasant surprises. /HN